William Stiehl 1925 - 2016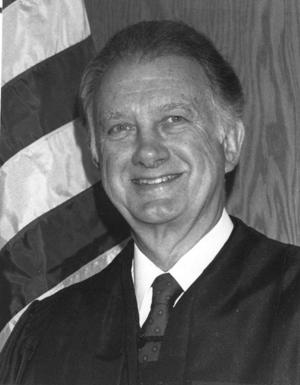 Judge William Stiehl
U.S. District
Judge William D. Stiehl
, born Dec. 3, 1925, in Belleville, Ill., passed away Monday, Feb. 8, 2016.
Judge Stiehl was married for 69 years to his wife, Celeste Stiehl, nee Sullivan, whom he married on June 6, 1947. Judge Stiehl also will be missed by his son, William D. (Mary) Stiehl Jr., and daughter, Susan M. (Bruce) Guthrie; grandchildren, Kathryn (Clay) Frauenfelder, Christina Stiehl (John Austin), William Guthrie and Andrew Guthrie; and great-granddaughter, Gretchen Frauenfelder.
Judge Stiehl believed deeply in living a life of service, integrity and respect for others. President Reagan appointed him a United Stated District Judge in 1986, following a 34-year career as an attorney, making Stiehl the first U.S. District Judge appointed from Belleville. Judge Stiehl became chief judge on June 1, 1992, and served in that capacity until Oct. 1, 1993.

During his time on the bench, Judge Stiehl established the Greater East St. Louis Community Fund using proceeds from a $7 million penalty he had imposed in a criminal fraud case. Judge Stiehl was very proud of the fund which is committed to helping the residents of East St. Louis and Brooklyn move out of poverty, improving the Greater East St. Louis community and, in turn, encouraging others to work to benefit the communities of East St. Louis and Brooklyn. The fund has initiated and funded a wide variety of projects, including a new 911 emergency system, "Operation New Spirit", a comprehensive city-wide clean-up program, over $2 million in scholarships, an eye clinic in partnership with University of Missouri, St. Louis and Southern Illinois University, Edwardsville, restoration of the Brooklyn Park in partnership with the Illinois Department of National Resources and the development of the Ted Savage Baseball Field for the children of Brooklyn, Ill.

Judge Stiehl was in the U.S. Navy Reserve from 1943 to 1973, retiring as a commander. Judge Stiehl served on active duty in World War II and the Korean War. During the Korean War, he served on Admiral Arleigh Burke's staff, participating in the United Nation's Armistice Negotiations.

In 1948, at the age of 22, Judge Stiehl was elected a member of the board of education of Belleville Township High School and Junior College, and in 1954 was elected president of the board. He also served on the Illinois Constitution Study Commission, the Governor's Advisory Council, and as chairman of the United States Service Academies Selection Board for Senator Charles H. Percy (1967-1978). In September 1954, Judge Stiehl became a Master Mason and has been a member of Ainad Shriners. He was a member of the Federal Judges Association, Federal Bar Association, Illinois State Bar Association, and St. Clair County Bar Association.

Services have been held.
Illinois Lawyer Now lists obituaries for ISBA members. Please send information, including local newspaper links, to sanderson@isba.org
---