Robert W. Ohlsen 1931-2016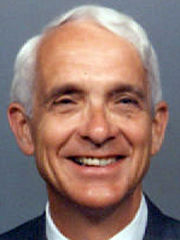 Robert W. Ohlsen
Robert W. Ohlsen
, 85, of Decatur, passed away on July 27, 2016, in Decatur Memorial Hospital.
Bob was born on June 18, 1931, in Downers Grove, IL, son of Angeline and Raymond Ohlsen. He married Barbara Reace in Chicago in 1958. He graduated from Peoria Central High School; Bradley University; University of Illinois School of Law, where he was a member of the Law Forum and the Order of the Coif; and Millikin University. Bob practiced law 54 years, until retirement in 2011.
Surviving are his wife Barbara, son Daniel (Stephanie), of Longmont, CO, daughter Karen Horton (William), of Carmel, IN, grandchildren Braden Ohlsen of Salt Lake City, Connor Ohlsen of Boulder, CO, Claire Horton of Indianapolis, IN, and Wesley Horton of Portland, OR; sisters Charlotte Ragan and Barbara Poindexter, brother-in-law William Rae, and many loved nieces and nephews.
He was preceded in death by his parents, sisters Shirley Rae and Patricia Schultz, brother William Ohlsen, and brothers-in-law Bud Schultz and Dave Ragan.
Bob was a member of Decatur First United Methodist Church, Decatur Noon Sertoma Club, Commodore Decatur Yacht Club, and the Distinguished Association of Reace In-laws. He also held leadership positions in many other civic and charitable organizations, including the Decatur Bar Association, Legal Aid, Lincoln Trail Council of the Boy Scouts, the American Red Cross, Webster-Cantrell Hall, Woodford Homes and United Way. He donated over 22 gallons of blood through the Red Cross.
He received the Boy Scout Silver Beaver Award for distinguished service to youth in 1978; the Outstanding Affiliate Service Award from the Downstate Affiliate of the American Diabetes Association in 1987; was elected an Honorary Rear Commodore for loyalty, service and dedication to the Commodore Decatur Yacht Club in 2001; the Community Service Award of the Illinois State Bar Association in 2002 in recognition of meritorious community service; the title of Senior Counsellor in 2007; and the Decatur Bar Association Commendation for Service in 2014.
Of all his accomplishments, Bob was most proud of his two children, and was a devoted grandfather for twenty-seven years.
He was a passionate sailor, racing Lightning class boats on Lake Decatur and at many out-of-town regattas. He also chartered larger boats in the Caribbean with friends and family. He played handball at the YMCA for over 50 years, golfed whenever possible, and spent many hours on Lake Decatur on his sailboats or his pontoon boat.
Service have been held. Condolences may be made to the family atwww.brintlingerandearl.com.
Illinois Lawyer Now lists obituaries for ISBA members. Please send information, including local newspaper links, to sanderson@isba.org
---